Note: Charges listed on this page are based on 8% GST.
How to trigger a change of plan?
Please send an email to help@vivifi.me if you would like to upgrade or downgrade your mobile plan.
Change of mobile plan will be processed on the 7th, 15th and 21st day of the month. If the date falls on a non-working day, it will be processed on the next working day. Please note that after the plan change request has been processed, your new plan entitlements/ subscription fee will be prorated for that month.
Plan change will take around 3 to 5 business days to have the display updated.
Note: Only one plan change request allowed per month for each mobile number.
To switch your mobile plans, please email help@vivifi.me and provide the following information :
1. Email address registered for the mobile number
2. Last 4 digit of the NRIC/ID of the registered name
3. Mobile number
4. Current existing plan
5. Convert to which plan
6. Transfer of Account Ownership form (if applicable)

Transfer of Account Ownership form will be required if the plan change involves mobile line to be transferred to another VIVIFI account under a different owner. For example, Customer A, is currently on VIVIFI Binge plan and Customer B is on VIVIFI Share plan. If Customer A wants to change from existing VIVIFI Binge plan to a VIVIFI Us line under Customer B's VIVIFI Share plan, Transfer of Account Ownership form will be required.
Once the ownership transfer is completed, the transferred number will belong to the owner of the new account. Eg. in the above example, the previous VIVIFI Binge number will now be under Customer B's name.
Below are the charges applicable for plan change.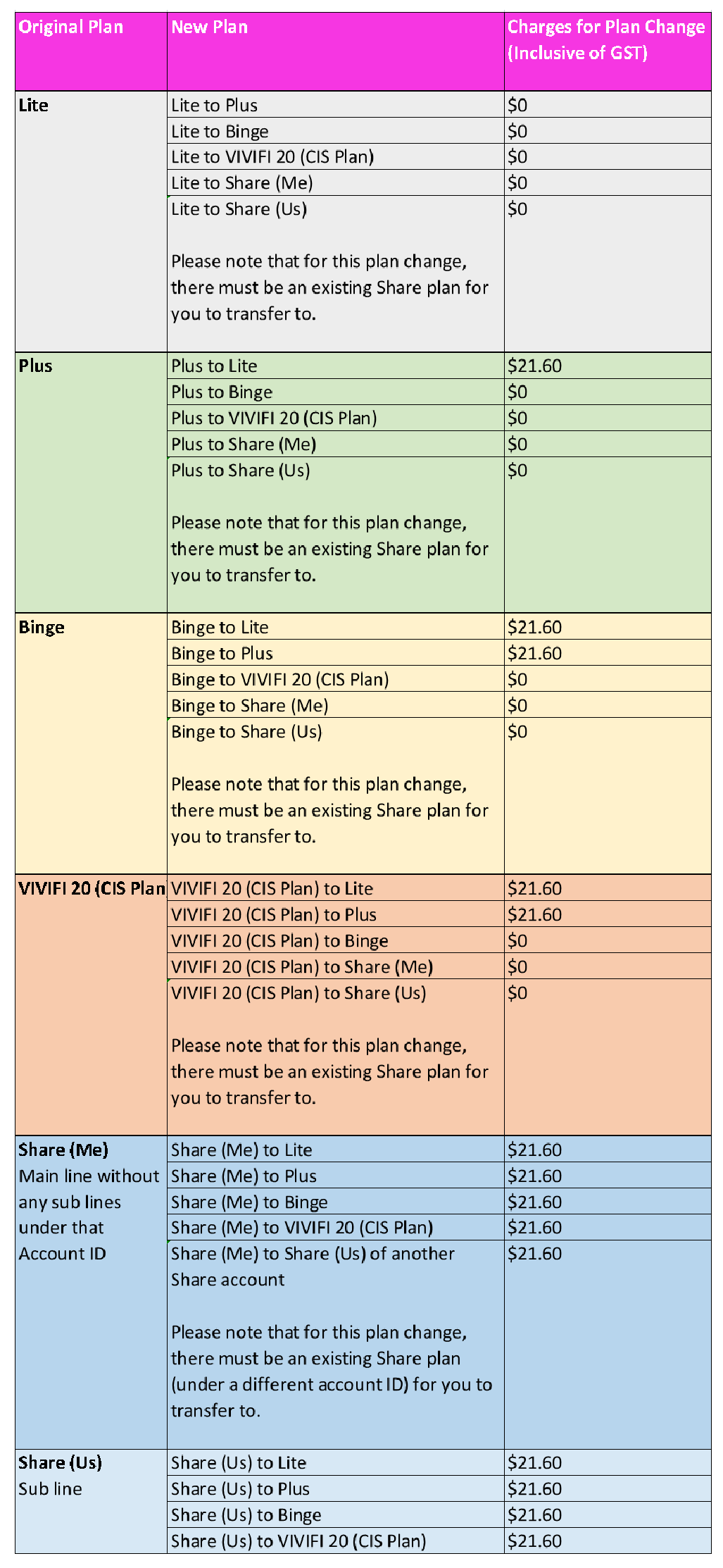 - For existing VIVIFI Share (120GB) customers changing to VIVIFI Share (180GB), please note that all your sub lines will be charged $6/line per month (inclusive of GST) after the plan change.
- Customers on VIVIFI Plus plan can opt to change from VIVFI Plus (9GB) to VIVIFI Plus (20GB) and vice versa by adding/removing Plus Bundle 1 (mthly) ($2/month inclusive of GST) on a monthly recurring basis. Click here for guide on adding/removing monthly recurring VIVIFI Boosters.
- For plan change to CIS plan,
1. Please check your CIS Plan eligibility. You may refer to the guide here.
2. Write in to VIVIFI at help@vivifi.me to request for plan change to CIS plan. Please also provide the CIS promo code which will be made available to your company's HR department.