Things To Note Before Porting In
There are a few things you should take note of before you port in your mobile number. Click here to find out more.
If you are porting in your Corporate Mobile Plan, please refer to this guide.
Steps for Mobile Number Porting (New Customers)
1. Indicate your intent to port in your existing number during sign up. Click here for guide on purchasing a new VIVIFI mobile line.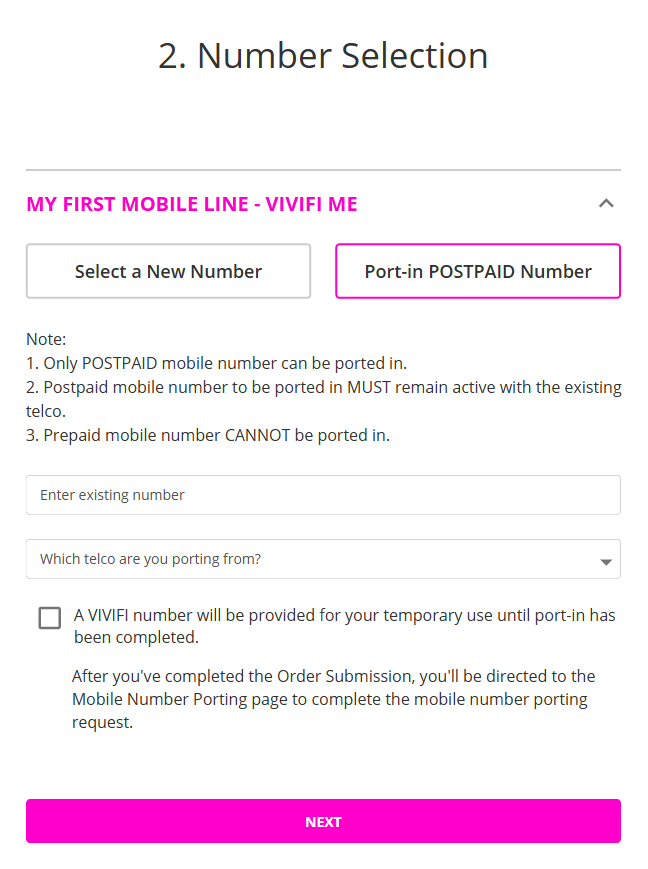 2. After you have successfully signed up for a new VIVIFI mobile line, submit your Mobile Number Porting (MNP) request by logging in to your VIVIFI Account and selecting Manage > Number Porting. Click on "View" to proceed with the MNP request submission.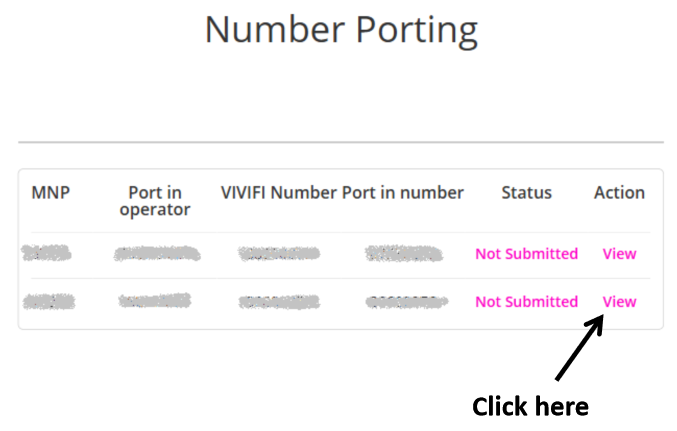 Alternatively, you may submit the MNP request after your VIVIFI SIM has been delivered. Please note that porting will only be triggered after you have successfully submitted the MNP request and your new VIVIFI SIM has been activated. Click here for guide on submitting the MNP request.
3. Receive your new VIVIFI SIM.
If you have signed up for your new VIVIFI plan using Singpass or are an existing VIVIFI Share plan customer adding a new sub line, you will need to activate your SIM online at activate.vivifi.me.

If you have signed up without using Singpass and have selected Home Delivery, your SIM will be activated within 4 hours of SIM delivery.

If you have signed up without using Singpass and have selected Postal Mail, send the SIM activation request to VIVIFI. SIM card will be activated within 4 hours after you have been contacted by VIVIFI staff. Refer to the email or scan the QR on the envelope from VIVIFI for details on SIM activation.
At this point, the number that is activated will be your temporary VIVIFI number. You may use this temporary VIVIFI number while your port-in is being processed.
4. It may take 1 to 2 working days for porting to be completed if you have submitted your Mobile Number Porting request correctly and there is no rejection from your existing Telco.
5. Swap out your existing Telco's SIM card when there is no mobile signal, which indicates that porting has been completed. At this point, your VIVIFI temporary number will be switched to your port-in number.
Insert your VIVIFI SIM card.

Reboot your mobile phone.

Select Singtel(Postpaid), if there is a prompt on your device.
Click here for other frequently asked questions on Mobile Number Porting.