Online submission of SIM activation request is only applicable for customers applying for
- new VIVIFI mobile plans using 

Singpass Myinfo,

 or 

- existing VIVIFI Share plan customers adding new VIVIFI Us lines. 
Customers are advised to use a device with camera to submit the SIM activation request, since scanning of SIM barcode will be required.
Notes:
For existing VIVIFI Share customers activating a new VIVIFI Us line, please note that the details of the main VIVIFI Me line user should be used for Singpass login during the SIM activation.
For new VIVIFI Share customers with multiple mobile numbers in one Order ID, eg. Order ID 12345 with 1 VIVIFI Me main line and 3 VIVIFI Us sub lines, please note that all mobile numbers will need to be activated together. As there is no pre-allocation, you can any SIM card for each number.
All customers eligible for online SIM activation are encouraged to activate the SIM card(s) within 30 days from SIM order date.
Please contact VIVIFI at help@vivifi.me for issues with SIM activation.
How to activate your VIVIFI SIM Card :
Step 1: Receive your new VIVIFI SIM
Click here to find out more on Home Delivery.
Click here to find out more on Postal Mail.
Step 2: Visit SIM Activation page
Visit VIVIFI's online SIM activation page at activate.vivifi.me.
Step 3: Enter Order ID
Enter the Order ID which is included in the email from VIVIFI.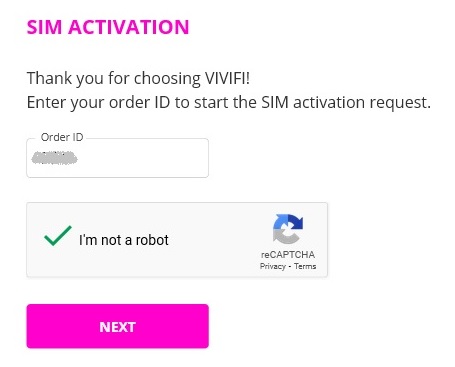 Step 4: Log in to your Singpass account

Log in to your Singpass account.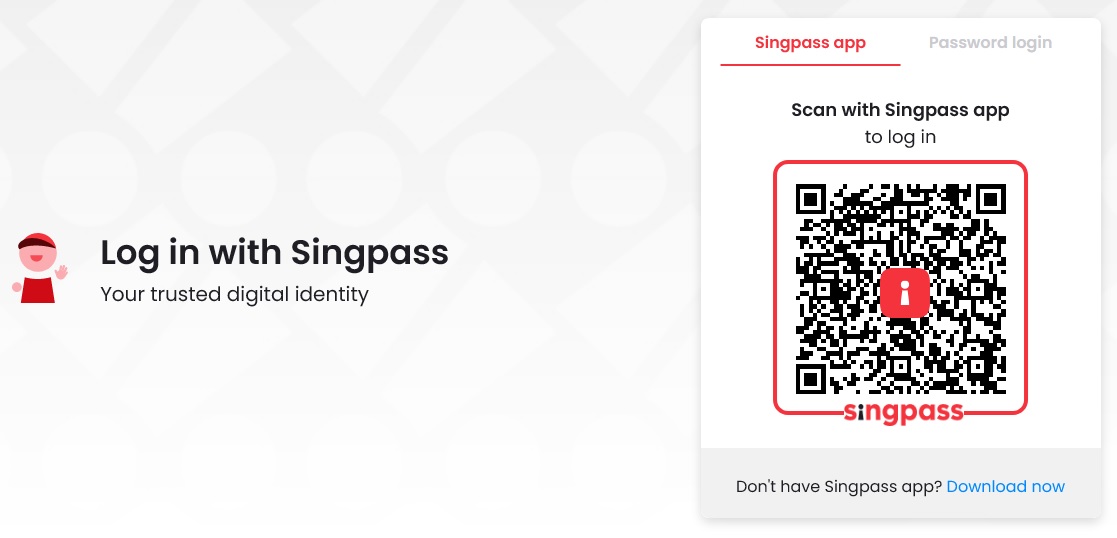 Step 5: Give consent to retrieve data 
Click on "I Agree" to consent to retrieving your data from Myinfo.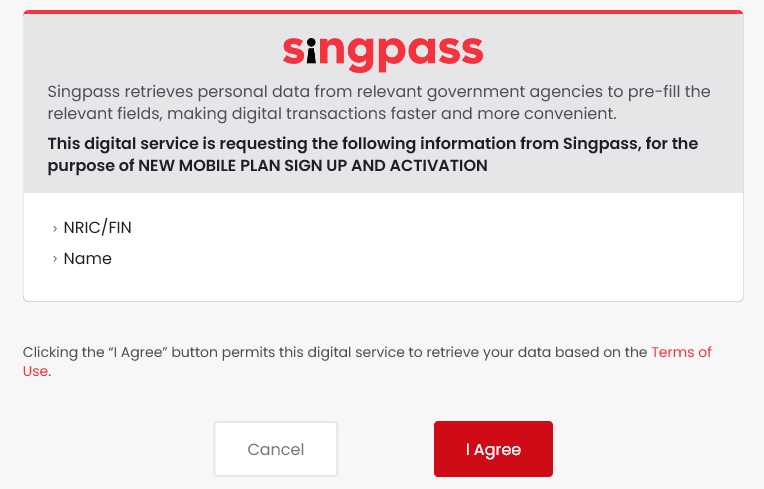 Step 6: Confirm your details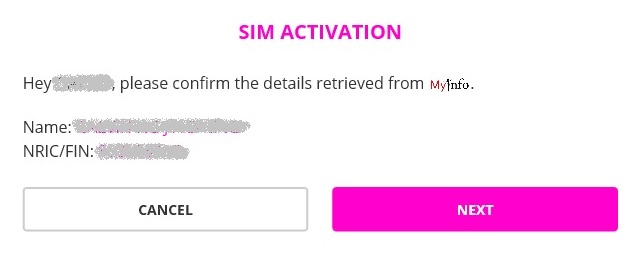 Step 7: Check details of the subscribed VIVIFI plan and mobile number
If you are porting in your mobile number, the temporary VIVIFI number assigned will also be displayed on this page.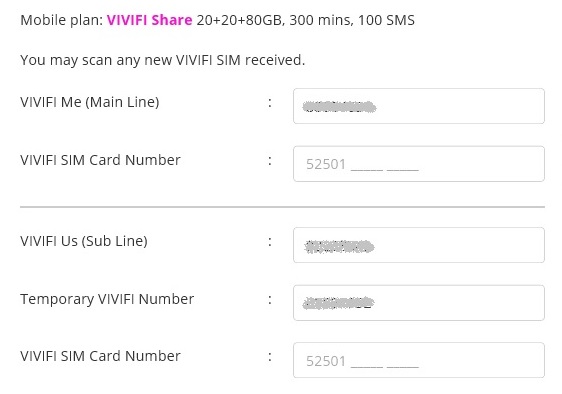 Step 8: Scan Barcode
Click on "Scan Barcode" to scan the barcode printed on your new VIVIFI SIM using your device's camera.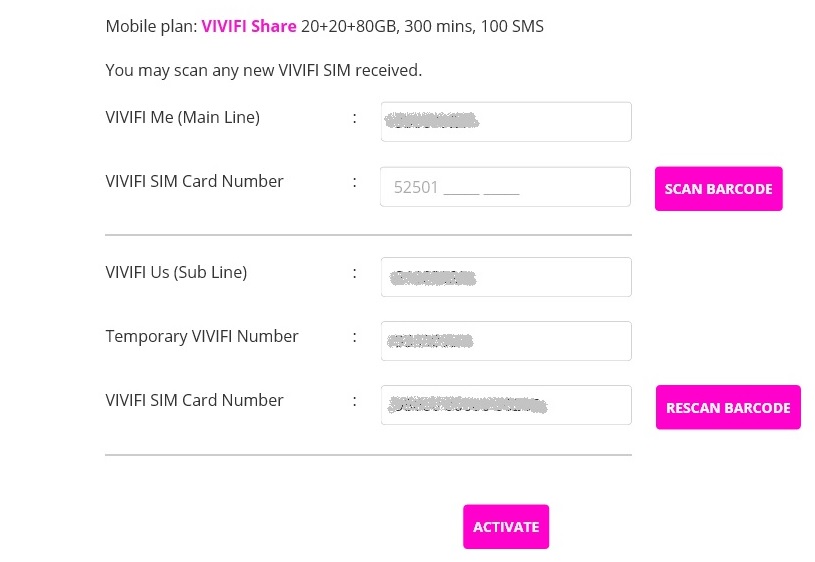 For VIVIFI Share with multiple numbers, you may scan any new VIVIFI SIM received for each mobile number. But please note that each barcode can only be used for one mobile number.
When scanning the barcode, you may need to adjust the focus by shifting your device slightly. You may also need to move your device slowly and take note of the light conditions. Click on the image below for the demo video.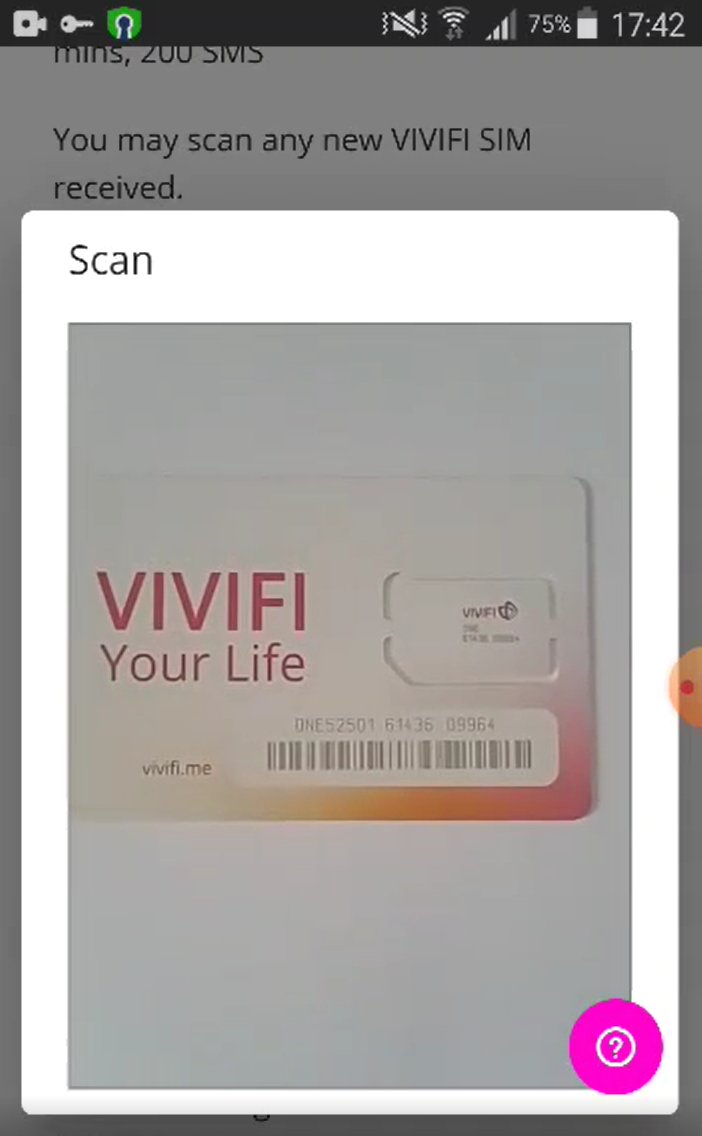 Click on image for demo video
Click on "Rescan Barcode" if you need to rescan.
Step 9: Submit SIM activation request
Click on "Activate" to submit the SIM activation request.
You will see this screen if your activation request has been submitted successfully.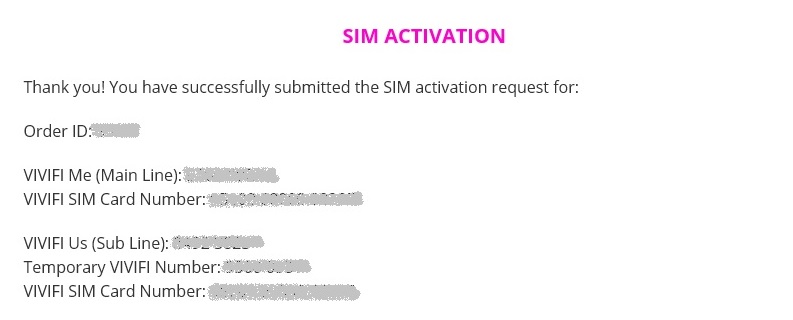 Note:
- Your SIM will be activated within 4 hours of SIM activation request submission.
- If you are porting in your mobile number, your temporary VIVIFI number will be activated first.
- Your number will be ported in only if your Number Porting status is "Submitted". Log in to your VIVIFI account > select "Manage" > "Number Porting" to check the status. Click here for more info on the submission of mobile number porting request.
- For VIVIFI Share customers porting in multiple mobile lines in the same Order ID, all your SIMs will be activated together with the temporary VIVIFI number. However, you may opt to port in your mobile numbers separately by submitting the mobile number porting request for each number only when you are ready for your number to be ported in. Click here for more frequently asked questions on mobile number porting.
What's Next?
Pro-rated Entitlement and charges on the month of activation