Note: Charges listed on this page are based on 8% GST.
When signing up for a new VIVIFI plan, you may either opt to sign up using Singpass or by filling up the form manually.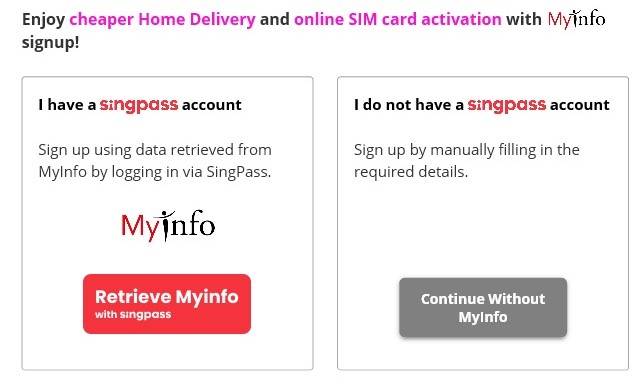 Below are the main differences between these 2 sign-up methods.
Singpass

Manual Form

Personal details for plan sign-up

- Available details are retrieved from MyInfo and pre-populated.

- No upload of ID image required.

- Details need to be entered manually.

- Upload of ID image required.

Delivery Options

ID verification

- You do not need to be around during SIM card delivery/collection since your details are retrieved from a trusted source.

- You need to personally receive/collect your SIM card and also present your original NRIC/FIN card as it needs to be verified.

- If you need a proxy to receive/collect the SIM on your behalf, the proxy will need to present the Letter of Authorization, Order ID, your original NRIC/FIN card and proxy's original NRIC/FIN card.

SIM card activation

- After you have received/collected your SIM card, you may activate it online at activate.vivifi.me anytime within 30 days from SIM order date. More info here.

- Alternatively, if you require SIM activation by our staff at self-collection point, please produce

Your original NRIC/FIN

Your proxy's original NRIC/FIN card*

*For activation on behalf

- You will not be able to activate your SIM card online.

- Your SIM will be automatically activated within 4 hours of SIM card delivery/collection.