I need to get another VIVIFI 20 mobile plan
You will need to register for a new VIVIFI account in order to purchase another VIVIFI mobile plan.
How can I use the same email to register for another VIVIFI account?
Below is a guide on how you may sign up for multiple VIVIFI accounts using the same email.
You can use the instant aliases feature for selected email services to have all the emails from various VIVIFI accounts sent to your email address.
Email services that supports instant aliases
| | | |
| --- | --- | --- |
| EMail Services | Example | Message will be delivered to : |
| Gmail.com | yourname+vivifi02@gmail.com | yourname@gmail.com |
| Outlook.com | yourname+vivifi02@outlook.com | yourname@outlook.com |
| Hotmail.com | yourname+vivifi02@hotmail.com | yourname@hotmail.com |
Please note that yahoo does not support instant aliases feature.
How it works
For example, your email address is yourname@gmail.com and you have already used it to purchase your first VIVIFI mobile plan.
If you would like to sign up for another VIVIFI account to purchase another VIVIFI mobile plan, you can use the address
yourname+vivifi02@gmail.com
Gmail will still deliver messages sent to these addresses to yourname@gmail.com even though you haven't registered them. This is because it simply ignores the part behind the + symbol and only uses the first part to determine to which mailbox it should be delivered.
Step 1: Registration
Enter the alias email (eg. yourname+vivifi02@gmail.com) when registering for a new VIVIFI account. Please note that this feature may not be supported if you are using your corporate email to register. You are advised to use a personal email if you are signing up for multiple VIVIFI mobile plans.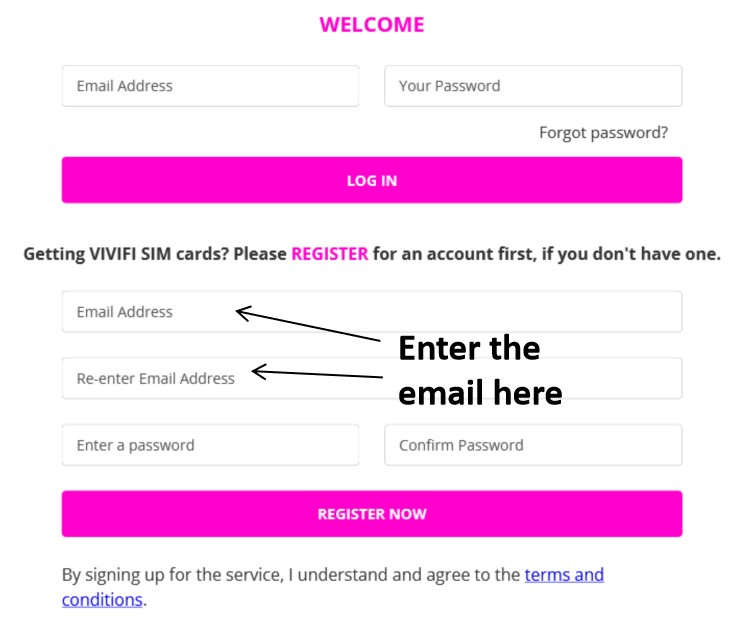 Step 2: CIS plan eligibility
Click on CIS Plans tab and do an eligibility check.
If you are doing the eligibility check using company email, please note that you will need to use the actual email issued by your company (i.e. do not use instant aliases feature here).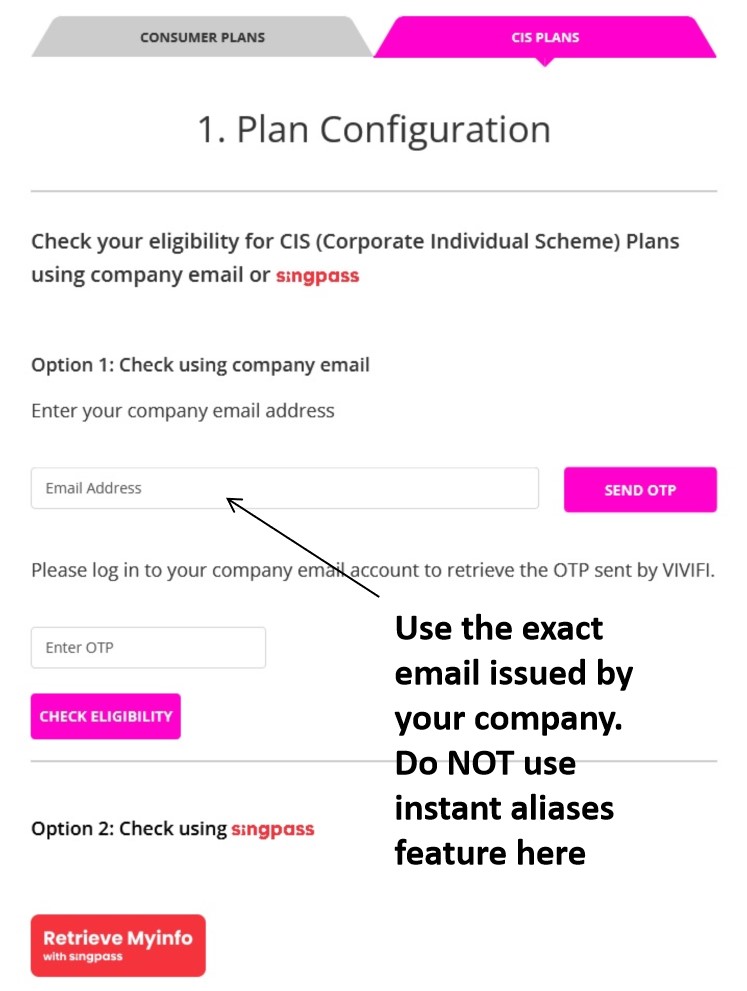 Click here for detailed guide on CIS plan sign-up.